Auto dismantling and electric vehicles
Our
blogs
will from now on include a monthly update on the statistics of electric vehicles. This includes quantitative information on the total number of electric vehicles in NZ and new additions through imports. Auto dismantling should experience growth in the coming years as combustion engine vehicles are replaced at a faster rate by EVs because of government mandates. At present end of life vehicles (ELVs) are the primary source of cars for auto dismantlers, this may change if mass adoption of EVs causes non-ELVs to fall out of favour with the public and end up being scrapped.
Scrappage of electric vehicles
The number of pure EVs at present is so small that it will take years before the auto dismantling and wrecking industry sees any impact as it takes time for a vehicle to reach its end of life. Only a few accident damaged and insurance write off EVs end up at wrecking yards. The wrecking industry may never come to dismantle EVs in the same way as it does petrol/diesel cars if the EV makers are successful in preventing passage of so called right to repair laws
[1]
. If people are stopped from repairing their own EVs then the wrecking and spare parts industry will not exist either.
Electric vehicle growth rate in NZ
The rate at which electric vehicles are introduced impacts when and if NZ can meet its climate change objectives. Pure electric vehicles (as opposed to hybrids) make up less than 1% of the NZ vehicle fleet. Contrary to popular belief that the pandemic brought forward the electric revolution, the proportion of EVs in new vehicle registrations dropped from 0.99% in February 2020 to 0.49% in October 2020 before recovering to 0.97% in April 2021
[2]
. New EV registrations need to surpass combustion engine vehicle registrations which is decades away if current trends remain in place.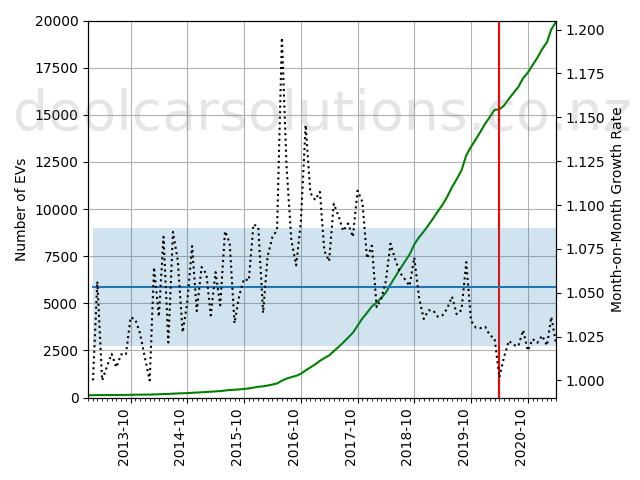 The mean month-over-month growth rate is 5.3%. We can use this to make some predictions about the future size of the battery powered cars and when it will be reached. This is a rather optimistic assumption for the future growth rate size. The present vehicle fleet size is about 3.4 million which is also used in the estimates below.
Date when electric vehicle fleet size reaches 100K: Feb 2024
Date when electric vehicle fleet size reaches 1 million: Oct 2027
Date when half of the vehicles in NZ are electric: Aug 2028
Date when all of the vehicles in NZ are electric: Oct 2029
Climate Change and Electric Vehicles
The NZ government plan to tackle climate change includes passing of the Climate Change Response (Zero Carbon) Amendment Act 2019 [3], which
introduced 2050 emissions reduction targets that are consistent with the Paris Agreement's commitment to limit warming to 1.5˚C above pre-industrial levels. The targets require gross emissions of biogenic methane to reduce to at least 10% below 2017 levels by 2030 and to at least 24 to 47% by 2050. Emissions of all other greenhouse gases must reach net zero by 2050. This last target is the one that applies to transport.
The methane part relates to cattle and livestock which leaves the "all other greenhouse gases" part that includes CO
2
from vehicles to be carbon neutral by 2050. Since petrol/diesel cars produce more than just CO
2
the language requires all gases emitted to be removed from the atmosphere in some way so that the overall effect is no change in amount of those. The adoption of electric vehicles makes this goal easier to reach as they do not produce any emissions apart from those released in the manufacturing process and provided the electricity used in recharging the batteries can be sourced from renewable energy.
Clean Cars
There has been a promise to legislate a Clean Car Standard. The policy will take effect in 2022 but exemptions for suppliers to comply will remain till early 2023
[4]
. The standard aims to lower the CO
2
emissions of vehicles entering New Zealand from an average of 171 grams per kilometre to 105 grams by 2025.